The Friends of Decorah Fish Hatchery supports the hatchery with funding for special projects to enhance visitor experiences and provide education opportunities. Check out our projects currently underway and others we have funded in the past.
CURRENT PROJECT
Sculptures at the Hatchery
The Friends of Decorah Fish Hatchery have once again undertaken a BIG project. Two large-scale sculptures designed and constructed by world-renowned artist (and Luther grad) Doug Freeman have been installed on hatchery property. A fundraising campaign has begun to help pay for the artwork and installation.
All funds to this point have been obtained by the FDFH through the use of the fish food machines used by visitors (25¢ per handful multiplied by many visitors over many years adds up!) and a donation by one of the Board members. No state money has been or will be used to fund this project.
Your contribution to this project is appreciated!
CURRENT PROJECT
Wayside Exhibits
Visitors will find information about a variety of topics at the new wayside exhibits to be installed in 2020-2022 at the Decorah Fish Hatchery. The panels combine artwork, maps and diagrams, photographs and storytelling. The first panels have been installed in the fish raceway areas and focus on trout.
Additional panels will cover a wide variety of themes and messages related to environmental education, cultural and
natural heritage, historic stories, geologic information, and/or natural resources.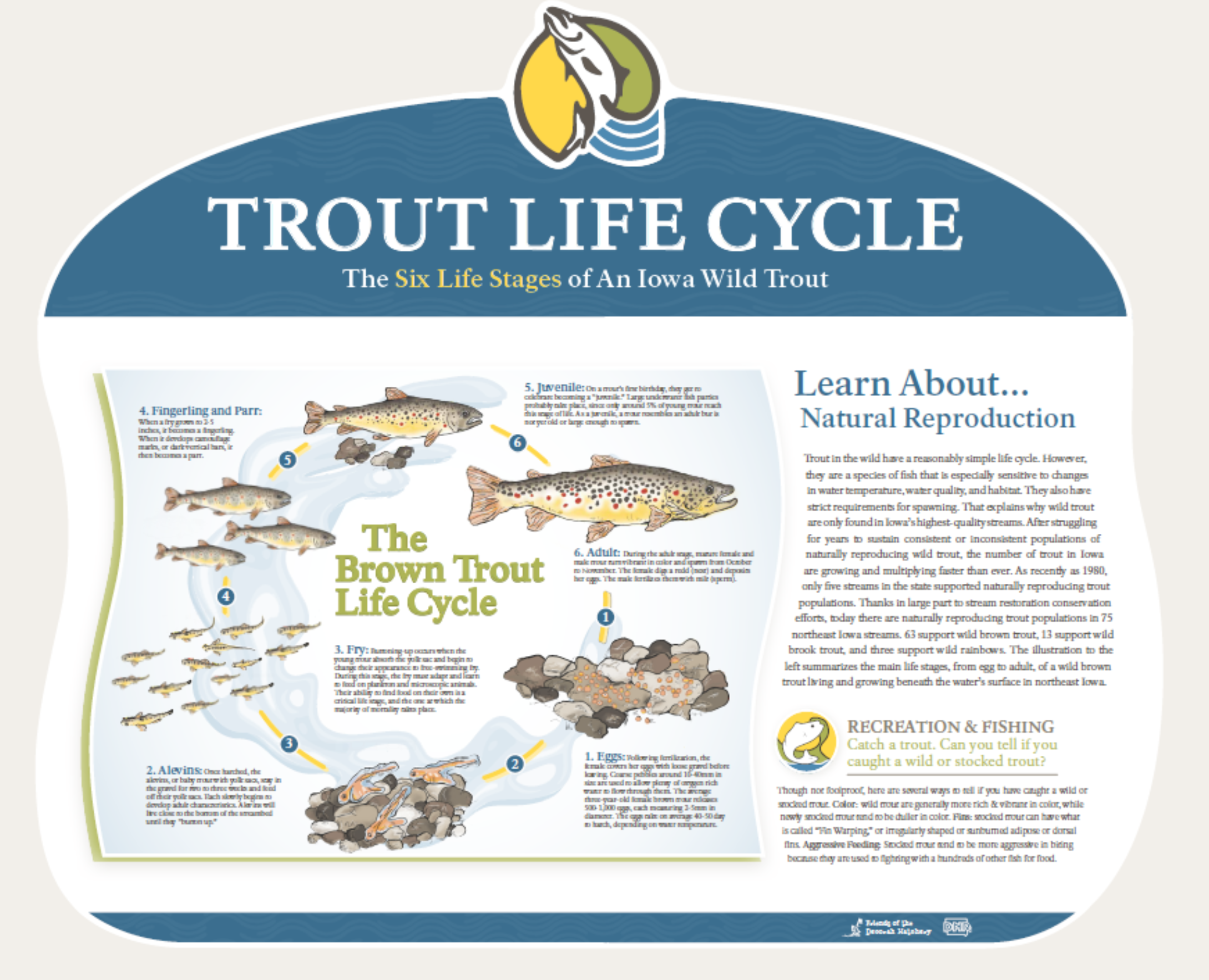 PAST PROJECT
Interpretive Plan
The Friends of the Decorah Fish Hatchery, in partnership with the Iowa DNR Fisheries Bureau, partnered with Northeast Iowa Resource Conservation & Development (RC&D) to create a new wayfinding and interpretive approach to enhance and maximize the visitor experience at the Decorah Fish Hatchery. The plan, which was completed in 2019, showcases approved interpretation and wayfinding design concepts. It also summarizes initial planning approaches, locations, costs, messages and the themes that should be
displayed.
The next steps are to complete final designs, fabrication, and installation for each type of desired interpretive and wayfinding needs.
PAST PROJECT
Shelter & Modern Restroom
The first project of the Friends of Decorah Fish Hatchery was replacement of an old, unpleasant pit latrine toilet. The new facility features a shelter with picnic tables, drinking fountain and flush toilets that can be be kept open year round.
This was a welcome addition to the area by visitors to the hatchery as well as hikers/bikers on the nearby Trout Run Trail.