A visit to the Chuck Gipp Decorah Fish Hatchery can include seeing (and feeding!) trout, enjoying Iowa's second largest natural spring, fishing for trout, biking or walking on the Trout Run Trail, or catching a glimpse of the area's most famous residents - the Decorah eagles.
Chuck Gipp Decorah Fish Hatchery
Rainbow trout are raised in 24 raceways and three rubber lined earthen ponds at the Chuck Gipp Decorah Fish Hatchery. Easy access to the raceways make this a popular stop to see the fish of various sizes. A handful of feed purchased from dispensers brings fish swirling to the the surface.
The fish hatchery is open to the public 365 days a year from sunrise to sunset. Group tours can be scheduled by calling the hatchery at 563-382-8324. Office hours are 7:30 a.m. – 4:00 p.m.
About 130,000 catchable-size rainbow trout are raised each year. Decorah fish hatchery personnel are responsible for stocking 15 put-and-take streams in Allamakee, Howard, Mitchell and Winneshiek counties. The hatchery also stocks five seasonal urban lakes in Mason City, Sioux City, Spencer, Ames and Ankeny or Bondurant.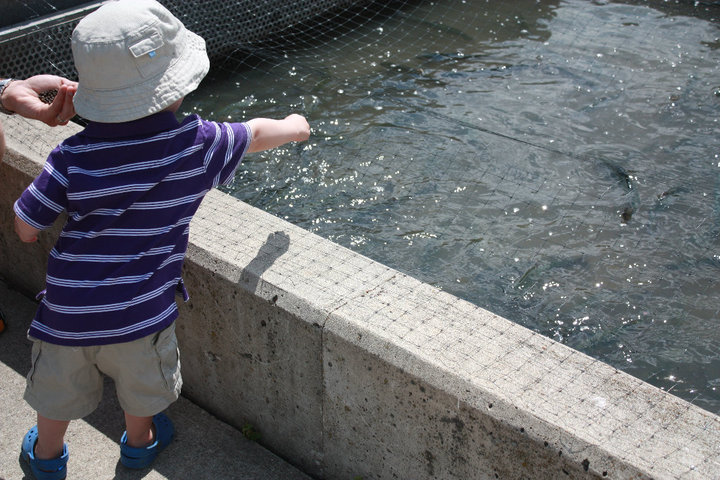 Be sure to stop by this beautiful spot during your visit to the hatchery.  It's the perfect place for a picnic, relaxing in the shade or dipping your line in for a trout. Water flows from an underground spring in the hillside and flows over a man-made structure creating a lovely cascade of water.
Trout Fishing
While you can't fish in the rearing ponds and raceways, you can fish in Siewers Spring and nearby Trout Run. Be sure to check DNR fishing regulations regarding trout fishing (hint - you need not only a fishing license, but a special permit for trout). The stocking schedule for Trout Run and other Iowa trout streams are posted on a calendar available on the Iowa DNR website, although some streams are unannounced.
Decorah Eagles
You've watched them on the eagle cam, at a visit to Chuck Gipp Decorah Fish Hatchery, you may catch a glimpse of them in person. The world-famous Decorah Eagle nest is located just across the road and the eagles are frequent visitors to the hatchery. A short walk on the Trout Run Trail leads will take you to a spot where you can see the nest. 
Trout Run Trail
The hatchery is a great place to start your journey on the Trout Run Trail.  The 11-mile loop winds through historic and picturesque Decorah and the surrounding area, passing along dikes, abandoned rail beds, and private farmlands. The trail offers views of forested limestone bluffs, rare algific talus slopes, and the beautiful Oneota Valley and Upper Iowa River.
In addition to biking, walking, running, and cross-country skiing opportunities, the trail provides safe, non-motorized access to trout streams, the Upper Iowa River, art pieces, and local parks, campgrounds, restaurants, ice cream shops, and businesses. 
Visit Decorah
There is so much to see and do in Decorah (and the surrounding area). You'll definitely want to spend more than one day here. Check it all out at Visit Decorah!